Dental Monitoring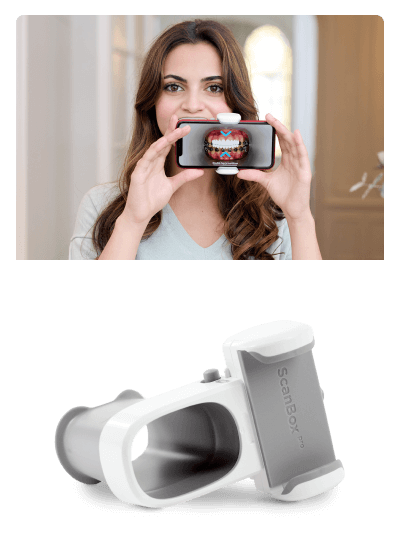 Transform Your Orthodontic Treatment with Dental Monitoring
At Carolina Orthodontics & Children's Dentistry, our goal is to provide cutting edge orthodontic and dental treatments to our patients. Keeping that goal in mind, we now offer Dental Monitoring to all of our Invisalign patients!
What is Dental Monitoring?
Dental Monitoring takes your Invisalign treatment to the next level! Using your smartphone to tap into the power of artificial intelligence, this powerful technology will optimize orthodontic treatment outcomes, which means the best possible results for our patients.
Using an app on your smartphone, you can have a check-up with our orthodontists simply by taking photos of your teeth as you progress through your Invisalign treatment journey. These remote check-ups take the place of most in-office visits, so you can spend less time in our office and more time out doing the things you love.
Dental Monitoring allows your orthodontist to monitor your Invisalign treatment each step of the way from the Dental Monitoring app. If needed, your orthodontist will adjust your treatment as you go, that way you won't delay progress if you can't make it into our office to be seen.
Benefits of Dental Monitoring
Convenient, comfortable appointments and easy follow-ups
Flexibility to be seen by your orthodontist from anywhere in the world
Easily accessible treatment history
Less time in the orthodontic chair
With the Dental Monitoring app and Scan Box pro, you can now send in photos of your teeth and communicate with our practice securely from the comfort of your home…or anywhere in the world.
How it works
1. At an in-person appointment with Carolina Orthodontics & Children's Dentistry, your orthodontist will provide you with directions on how to use Scan Box pro and how to get started using the Dental Monitoring app.
2. You will take photos of your smile using the Scan Box pro and send them to us through the app.
3. Your orthodontist will receive your photos and review your treatment to ensure everything is on track without the need for unnecessary trips to our office. We will send communication and guidance on your treatment via the app.
4. Over time, you can monitor the progress of your treatment with our photo time lapse technology that shows you how your teeth are moving towards your goal.
With Dental Monitoring, your treatment keeps progressing as we monitor your smile remotely, no matter where you are.
To learn more about how you can communicate with our practice during your Invisalign treatment through the Dental Monitoring app…give Carolina Orthodontics & Children's Dentistry a call today!
Keeping your personal information secure is a priority at Carolina Orthodontics & Children's Dentistry. The Dental Monitoring platform is HIPAA/GDPR compliant.